Dental Implants – Billerica, MA
The Closest Alternative
to Your Natural Teeth
Over the past several decades, dental implants have been emerging as one of the most popular treatments to replace missing teeth in Billerica. They boast a variety of unique benefits that distinguish them from traditional prosthetics, and with the proper care, they're able to outlast them by several decades. If you're interested in a more permanent and lifelike tooth replacement option, schedule a consultation with our team at Grateful Dentists today to learn whether you're a good candidate for dental implants in Billerica, MA.
Why Choose Grateful Dentists for Dental Implants?
Start-to-Finish Dental Implant Treatment
Advanced 3D Scanning & CEREC Technology
Ability to Last
35+ Years
What are Dental Implants?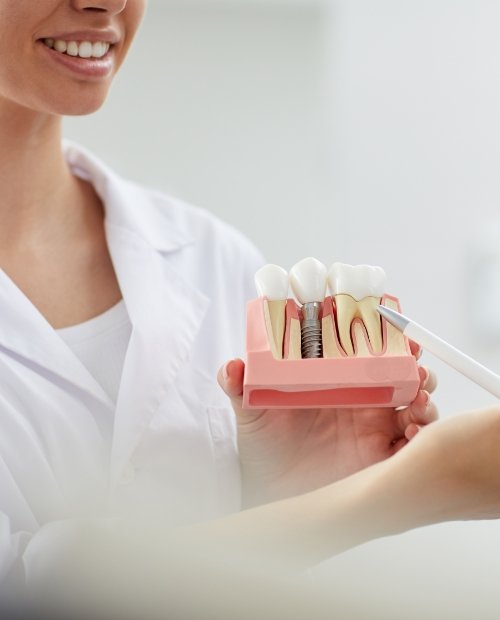 Dental implants themselves are small, titanium posts that are placed below the gumline and into the jawbone to restore the root structure of your missing teeth. Due to their biocompatible nature, they're able to chemically fuse with the jawbone to provide it with necessary blood flow and stimulation to keep it from eroding over time. This also allows them to function as a strong and stable foundation for a bridge, dental crown, or denture to be secured to.
The 4-Step Dental Implant Process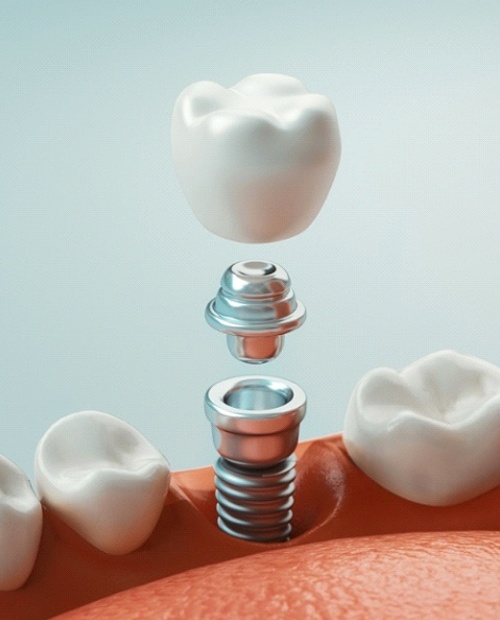 Do you understand how dental implants work in Billerica? If you're new to the idea of these permanent prosthetics, do not worry. Yes, the process takes time and patience, but the results are certainly worth it. One of the best aspects of receiving dental implants from our team is that we provide start-to-finish treatment in-house, so you can remain in one convenient location. And although no two patients' treatment is exactly the same, everyone who prepares for dental implants can expect to go through the same four steps: initial consultation, dental implant surgery, osseointegration, and delivery of the finalized implant restoration.
Initial Dental Implant Consultation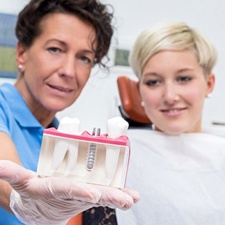 We'll speak with you about your medical history and any goals you have for the treatment. Your implant dentist in Billerica will also capture X-rays and any other diagnostic information that is needed to help you determine whether dental implants are the best restorative option for you. If you're not in a position to immediately move onto dental implant surgery, it may be that you require preliminary treatments first. Periodontal therapy, tooth extraction, or bone grafting may be necessary to ensure a more stable and successful environment for your dental implants.
Dental Implant Surgery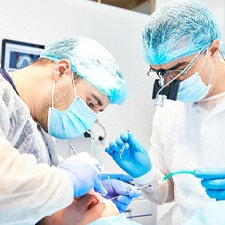 Since we offer in-house dental implant placement, you can remain with the same trusted professionals throughout your treatment. Once you are seated and ready for surgery, we will administer local anesthesia to numb your mouth. We'll then make one or more incisions in your gums to expose the underlying jawbone. Carefully, each implant will be positioned into the correct location to ensure maximum support. Once your dental implants are placed, the gum tissue will be closed, and protective healing caps placed over the tops of each implant.
Dental Implant Osseointegration/Abutment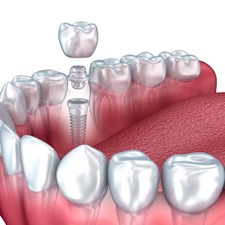 The next step in the dental implant process is recovery. During the next 3-6 months, osseointegration must occur, which is when your implants fuse with the jawbone. It will be imperative that you follow the instructions provided to you during this time, so no complications occur. Once this is complete, you'll return to our office so we can secure a small, metal connector piece to them, called an abutment.
Delivery of Dental Implant Restorations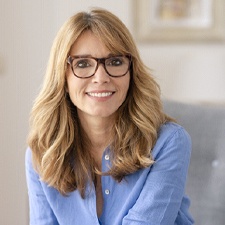 Once we receive your permanent, final restoration from the laboratory, we'll call you back in to attach it to your dental implants in Billerica. As one of the most versatile tooth replacement solutions, you can enjoy a dental crown, bridge, or denture – whatever your smile needs to be complete. And because these restorations are crafted using high-quality materials, you can expect them to blend in beautifully with the rest of your smile.
Benefits of Dental Implants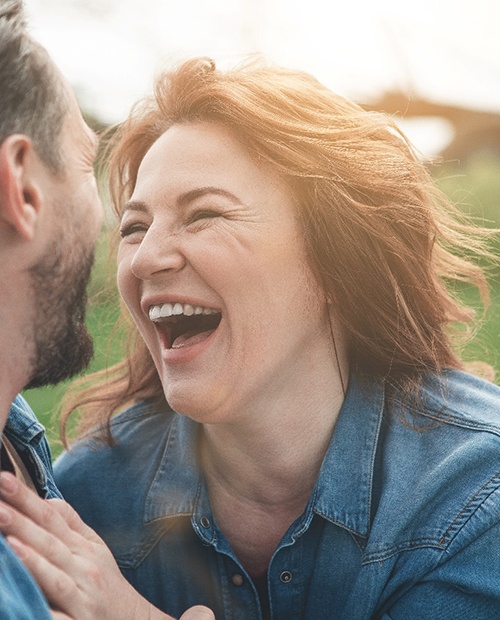 Many patients choose to get dental implants because they offer a wide variety of benefits that traditional restorations cannot. While these are just a handful of the benefits you can expect upon receiving your permanent implant restoration, they are by far the most notable to patients who have completed treatment. If you have questions or clarifications you'd like made by our team, please don't hesitate to ask during your next dental implant consultation.
Day-to-Day Benefits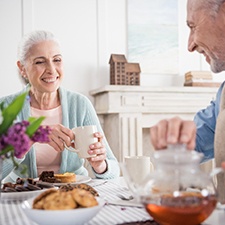 Natural-looking and feeling replacement teeth – Your dental implants feel almost indistinguishable from your original teeth, which means performing day-to-day activities will feel normal and natural. Whether you're chewing, smiling, laughing, or anything else, bridges and dentures simply can't compare.
Enhanced chewing and speaking abilities – Dental implants stimulate the bone tissue as you chew, which keeps the jawbone strong over time. This enables you to not only eat your favorite foods with ease, but speak with clarity without having to worry about a shifting denture.
Easy at-home brushing and flossing – Rather than having to remove your denture, you can simply brush and floss as normal to keep your dental implant clean. As a bonus, the restoration attached to your implant cannot develop tooth decay.
Health Benefits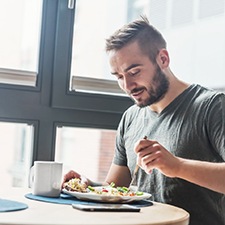 Prevent jawbone erosion over time – Typically, the jawbone deteriorates when teeth are lost. Since bridges and dentures don't address the underlying bone tissue, they don't effectively solve this long-term problem. To ensure your jawbone maintains its shape and does not continue to atrophy, you'll want to consider dental implants.
Expand your diet, improve your nutrition – It's one thing to be able to eat the foods you enjoy, but it's another thing entirely when you're able to eat more foods that make up a healthy and balanced diet. By including a diverse collection of fruits, vegetables, proteins, dairy products and other food groups in your meals, you can ensure you're getting the essential vitamins and minerals you need to maintain a healthy smile.
Reduce risk of future tooth loss – The moment a tooth is lost, the surrounding teeth will be at greater risk of coming out as well without a dental implant. This is because the bone tissue nearby begins to weaken, threatening the foundation of your remaining teeth. As dental implants stimulate your jawbone, your existing teeth should remain secure.
Long-Term Benefits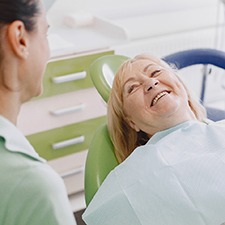 Preservation of facial structure – Facial sagging and hollowing of the cheeks are common side effects of tooth loss. Unfortunately, dentures and bridges don't prevent these issues because they don't influence the bone tissue. Dental implants allow improved blood flow to occur, reducing the risk of these facial changes.
95% treatment success rate after 10 years of placement – Dental implants are nothing if not reliable. When placed by a trained professional, you can have confidence knowing your replacement teeth will be able to keep up with your active lifestyle.
Ability to last 35+ years with proper maintenance - While bridges and dentures require replacement every several years or so, you can expect your dental implants to last for well over 35 years (and even for life) when taking proper care of them. In comparison, bridges usually require replacement every 10 years and dentures require replacement every 5 to 7 years.
Who Can Dental Implants Help?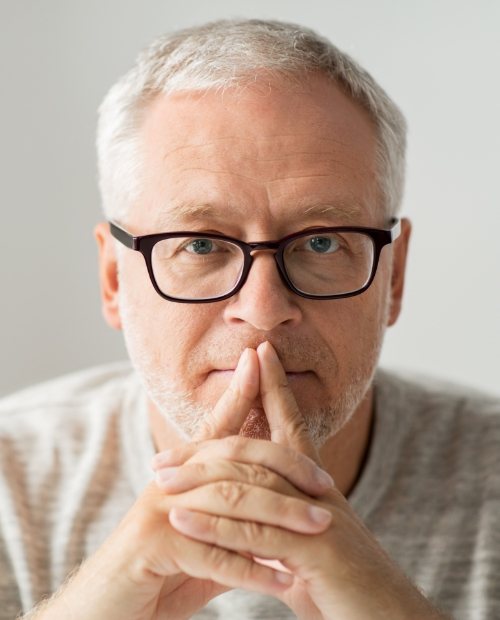 Dental implants are an incredibly versatile treatment that can be used to replace a single missing tooth, all of your teeth, or some of them. It's custom-tailored to meet your unique needs from beginning-to-end, which is one of the many reasons why they have such a high success rate. Below, you can read more about how we utilize dental implants in Billerica to restore smiles facing different tooth loss situations.
Missing Single Tooth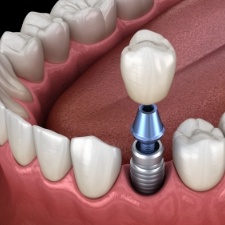 For a single missing tooth, we can place one dental implant in the area below your gumline, into your jawbone. Once is has fused with the bone structure, we'll secure an abutment to it, which will hold a customized dental crown in place.
Missing Multiple Teeth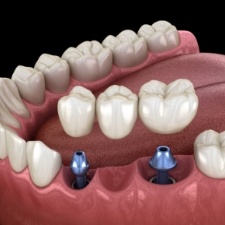 If you're missing several consecutive teeth, instead of having to alter your natural tooth structure to have a traditional bridge placed, our team can secure it to two dental implants.
Missing All of Your Teeth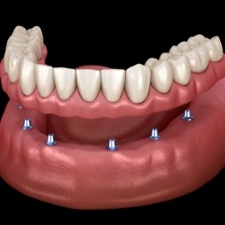 For one or two entire rows of missing teeth, we can secure a denture to anywhere from four to eight dental implants that are strategically located along the arch. That way, you don't have to worry about denture adhesive or slipping or shifting restorations.
Understanding the Cost of Dental Implants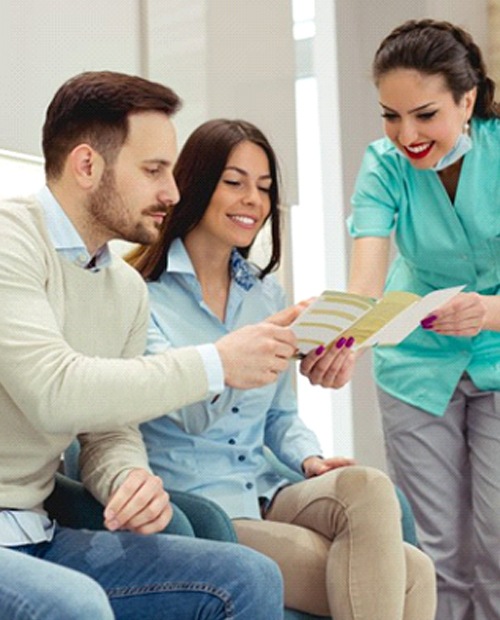 The dental implant procedure is customized for each patient, which is why there's no single price tag associated with it. In order to provide you with an estimate, we'll need to examine your mouth and determine key details, including how many dental implants we'll need to place and whether you need any preparatory procedures. Once we do this, our team will be able to walk you through financing options, dental insurance coverage, and answer any other questions you may have. Below, you'll find some helpful information regarding the cost of dental implants in Billerica – and why this solution is worth every single penny!
Preliminary Treatments & Dental Implant Surgery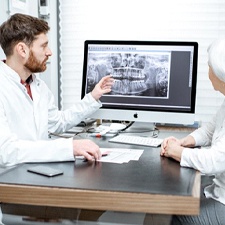 In some cases, a patient will need to undergo preparatory treatments before their mouth can be ready to support dental implants. This is particularly common for patients who currently have gum disease or whose jawbones have deteriorated after tooth loss. While these procedures increase the chances of long-term dental implant success, they also increase the total treatment costs.
Dental implant surgery also carries its own cost, which varies based on type of anesthesia you receive. One benefit of getting dental implants here at Grateful Dentists is that we perform this procedure in-house, so you won't have to worry about paying a separate bill to an outside specialist like you would at many general dental practices.
The Parts of Your Dental Implant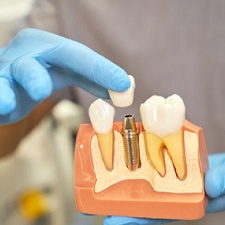 Each of the three parts of a dental implant can impact the overall cost of your treatment:
Implant post – The more posts you need, the higher your cost will naturally be. The posts can also come from different manufacturers and be made from different materials, like titanium or zirconia, which also influence their price tag.
Abutment – The metal connector pieces can also come from various brands.
Restoration – Your implants and abutments will be topped with a dental crown, bridge, or denture, depending on how many teeth you're replacing. Generally, the larger the restoration, the more it will cost.
Our team will be transparent as to why we choose the material we do and how your final cost will be affected.
How Dental Implants Can Save You Money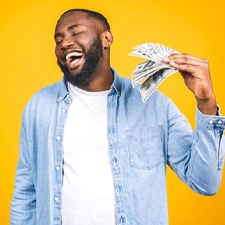 While dental implants cost more up-front than regular dentures and bridges do, they can actually be the most cost-effective choice in the long run. Why? They can potentially last several times longer than traditional prosthetics, so you'll avoid spending money (and time) on frequent repairs and replacements. Additionally, they encourage better oral health, lowering your risk of needing pricey dental treatments. When you also consider the daily quality-of-life benefits that dental implants provide, it's easy to see why they're worth the cost!
Does My Dental Insurance Cover Dental Implants?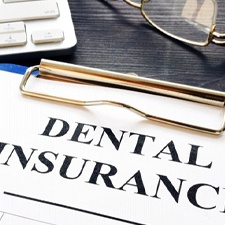 In general, dental insurance doesn't cover dental implants, but there are sometimes exceptions to this rule. For example, while your plan might not cover the implants themselves, it may partially cover the cost of your final restoration. Our team members are experts when it comes to navigating dental insurance policies and helping patients maximize their benefits, so we'd be happy to look over your plan.
Making Dental Implants Affordable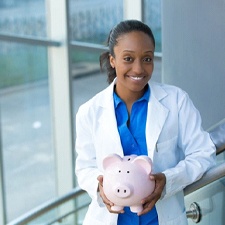 The last thing we want is for you to break the bank when you're just trying to enjoy a new smile. That's why we offer two other ways of making dental implants affordable:
CareCredit – This reliable, third-party financier has helped millions of Americans split up their dental care costs into manageable monthly chunks. We'll help you find a plan that fits into your budget. Plus, many of their plans have extremely low (or even zero) interest rates!
In-house plan – Our in-house dental membership plan is a great alternative to patients without traditional insurance. For a fixed monthly or yearly fee, your preventive care is covered, and you get a 13% discount on ALL procedures that we perform in our office, including dental implants!
Dental Implant FAQs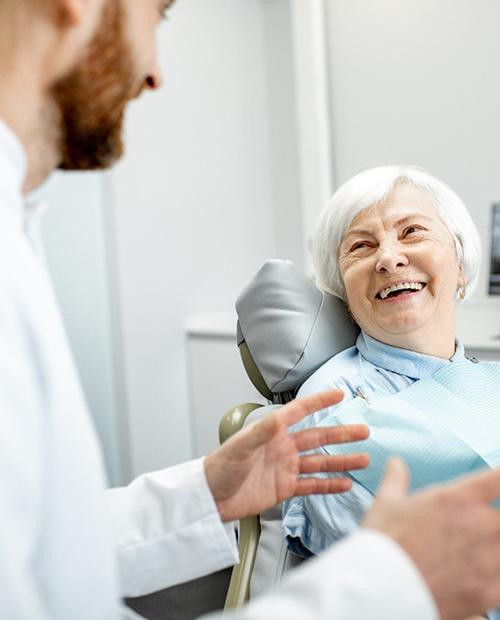 Dental implants are one of the most permanent and durable solutions for missing teeth. Since it's a major treatment that requires oral surgery, it only makes sense that you'd want to be well-informed before committing to anything. Even after reading the information outlined above, it's completely normal to have a few lingering questions about getting dental implants in Billerica. Luckily, we've got you covered. Our team has decided to answer some of the most common questions we receive from patients. If you prefer to speak with us directly, don't hesitate to get in touch !
How Long Do Dental Implants Last?
If you're considering getting dental implants in Billerica, you probably already know that they're one of the most permanent and long-lasting solutions for missing teeth. Although they're designed to last well over three decades, their exact lifespan depends heavily on the patient's oral hygiene, health, and lifestyle. Luckily, taking proper care of your new smile doesn't require any special cleaning products or a complex dental care routine. You just have to be diligent about brushing and flossing, visit your dentist every six months for a checkup and cleaning, and avoid bad habits that can damage your implants (i.e., chewing on ice, smoking, using your teeth as tools).
How Successful Are Dental Implants?
It's hard to say with certainty how successful your dental implant treatment will be because it depends on several factors. If you had them placed by a skilled professional, you can expect your implants to have a success rate of over 95%. Of course, you must take proper care of them afterward to prevent their failure, meaning you should follow a good oral hygiene routine, visit your dentist regularly, and stick to a healthy diet. The success of your implants can also vary based on their location. For example, molars are more likely to fail since they receive added strain from chewing than front teeth.
How Long Does It Take to Recover from Dental Implant Surgery?
Generally, patients should be able to resume their normal activities the day following their surgery. But since every smile is unique, the recovery timeline can vary greatly from person to person. To promote faster healing, you should avoid any strenuous exercise for the first week or so. After the first couple of days, the bleeding and swelling should gradually stop. Make sure you take your prescribed medication as directed and follow your dentist's aftercare instructions to a T.
Will People Be Able to Tell That I Have Dental Implants?
One of the most attractive benefits of dental implants is they give you a natural-looking smile. We'll take impressions of your mouth and use them to design personalized restorations, ensuring they suit your facial features perfectly and blend seamlessly with your remaining teeth. Once your restorations are in place, people won't be able to differentiate them from your natural pearly whites! Additionally, since implants are surgically inserted into the jawbone, you won't have to hold your jaw in an odd way to keep them in place like you would have to with ill-fitting dentures.
Dental Implant Post-Op Instructions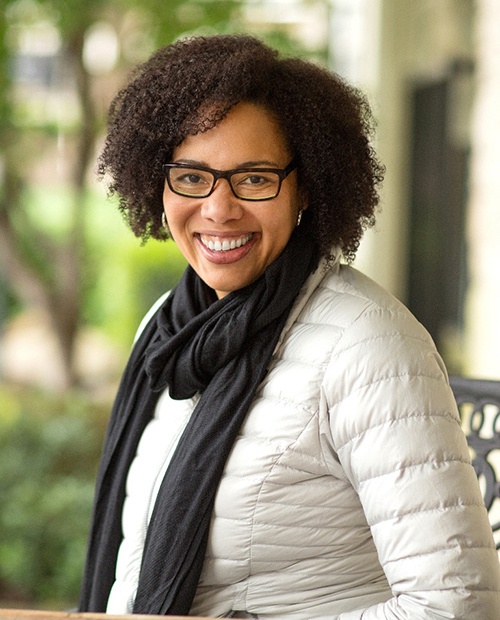 At Grateful Dentists, we know receiving dental implants is a costly investment. We also understand it is more than just money you're spending on a new, complete smile, it's also your time. To ensure your results last as long as possible, our team will provide you with detailed dental implant post-op instructions in Billerica. Below you will find some of the most common tips you can expect to receive when recovering from dental implant surgery. Contact us if you have any additional questions or concerns.
What to Do Directly After Dental Implant Surgery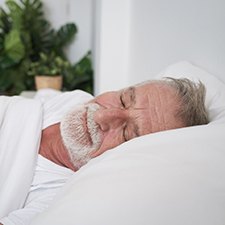 After your dental implant procedure, you can expect to rest the remainder of the day, as the anesthesia will take time to wear off. As you begin to notice more feeling inside your mouth, avoid touching your surgical sites to prevent any irritation. While some soreness, swelling, and minor bleeding are normal, make sure to take an over-the-counter pain reliever to minimize your discomfort. If your implant dentist in Billerica has prescribed certain medicine for you, make sure to take it as instructed.
You should also avoid using straws to prevent the dislodging of any blood clots and do not start smoking again for at least 24 hours.
Common Side Effects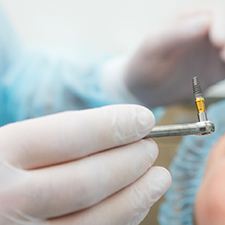 Anytime you come out of oral surgery, you can expect there to be some common side effects. These may include:
Slight bleeding that may last for a few days. You can minimize this with the help of a washcloth or gauze.
Some swelling that can last up to one week. A cold compress can help to reduce swelling and make you more comfortable.
Soreness is normal, as your gums and bone will need time to heal. Make sure to take prescribed medicine or take an over-the-counter pain reliever to reduce discomfort.
Diet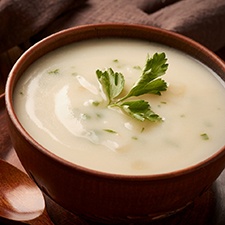 You may be tempted to take a bite into a juicy hamburger or steak after your surgery, but it's better if you stick to a liquid and soft food diet while you're healing. In the first few months, you'll want to consume some of the following types of foods to reduce additional pressure placed on your dental implants in Billerica:
Pasta
Scrambled eggs
Yogurt
Ice cream
Pudding
Warm soups
Mashed potatoes
In the beginning, try to avoid chewing on that side of your mouth. As you begin to notice your mouth feeling better, you can slowly incorporate solid foods, but try to stay away from anything hard or crunchy.
Health & Oral Hygiene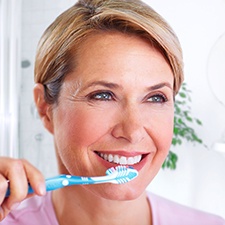 Optimal oral hygiene is essential. When it comes to brushing, flossing, and rinsing, it's a non-negotiable part of treatment, as your dental implants can become infected and potentially fail. During recovery, you'll need to be careful when cleaning your teeth, as you do not want to cause additional irritation. However, you can begin to brush your teeth as usual the day after your surgery. You'll also want to rinse 2-3 times each day (after meals) with saltwater or use a prescription mouthwash. You will need to avoid any mouthwash that contains alcohol.
What to Do After Your New Teeth Are Attached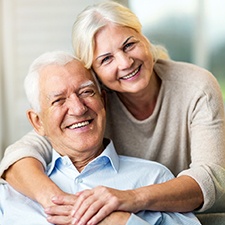 Now that your new teeth are attached, you can begin to enjoy your complete smile! The hard part is officially over, but you may continue to experience some slight sensitivity in your gums. Fortunately, this can be controlled with pain medicine. You should not, however, experience any swelling, bleeding, or extensive recovery once your new teeth are in place!