Dentures – Billerica, MA
Completing Your Smile
with a Lifelike Prosthetic
Many of your daily tasks can become much more difficult to do if you lose some or all of your teeth. Without your pearly whites, you won't be able to eat properly, speak clearly, or smile confidently, which can take a major toll on your quality of life. Fortunately, our team at Grateful Dentists offers dentures to renew your bite. These durable and natural-looking prosthetics are made precisely for your smile, and they can last many years with proper care. Keep reading to learn more or call us today to schedule an appointment!
Why Choose Grateful Dentists for Dentures?
Use Incredibly Natural-Looking Dental Materials
Advanced Dental Technology for Precise Results
Offer Multiple Payment Options
Who's a Good Candidate for Dentures?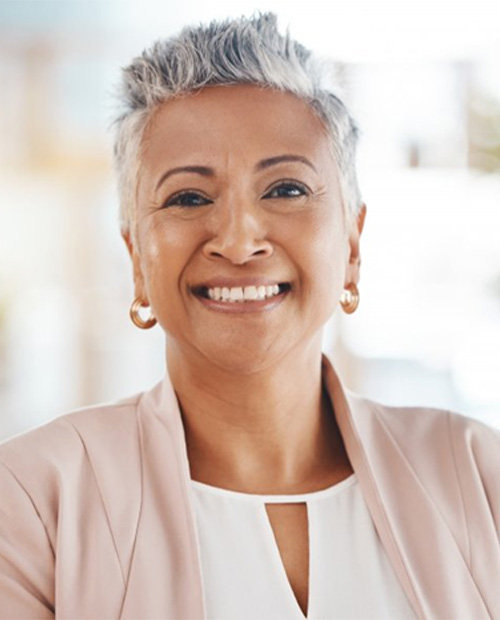 Whether you are missing a few teeth or all of your teeth, you likely make a good candidate for dentures. All you need to do is schedule a consultation with your dentist so they can determine whether you are eligible. If you aren't currently a good candidate, by taking steps to restore the health of your gum tissue and bone structure, dentures could be in your near future.
Effects of Missing Teeth
Tooth loss can be caused by a combination of different factors with the most common being tooth decay, gum disease, and injury. According to the American Academy of Periodontology, there are numerous negative consequences of missing teeth, like facial sagging, difficulty speaking, difficulty eating, and lower self-esteem. By replacing missing teeth with dentures, patients can see improvement in all of these areas of their lives.
What Qualifies You for Dentures?
Dentures make an excellent solution for people who have undergone significant tooth loss, have sensitive teeth, have tooth decay, and have sufficient healthy gum tissue and jawbone. Denture-wearers must also be committed to maintaining an excellent oral hygiene routine and properly caring for their dentures.
The type of denture that you get is determined by how many teeth you are missing and where they are located in your mouth. Dentures are generally more affordable than other tooth replacement options, making them an ideal option for patients who are unable to invest a lot of money into their smile at this time.
Alternative Tooth-Replacement Options
Patients who aren't good candidates for dentures can explore other options:
Dental Bridges: Bridges are ideal for patients who are only missing one or a few teeth. They require healthy teeth to surround the gap to support them.
Dental Implants: A dental implant is a titanium post that is inserted into the jawbone to take the place of the missing tooth. To make a good candidate for this procedure, patients must have a solid bone structure. This option is more costly, but it is a permanent solution.
Learn More About Dental Bridges
Types of Dentures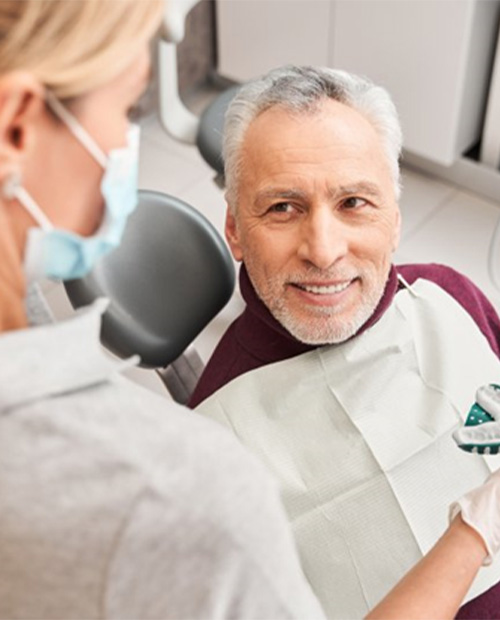 People can experience tooth loss in a variety of ways, so our team will tailor the prosthetic to fit the size and shape that will best complete your smile. Once we've evaluated your mouth, we can determine the kind of denture you should receive from the following list.
Partial Dentures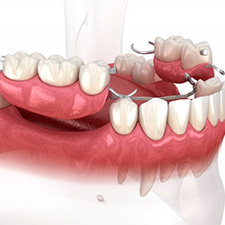 If you still have any remaining healthy teeth, then partial dentures might be a viable option. This prosthetic is made up of a gum-colored base that has a series of metal frameworks within it to fit your mouth like a puzzle piece. This will allow you to restore your complete smile even if there are multiple missing teeth in several places.
Full Dentures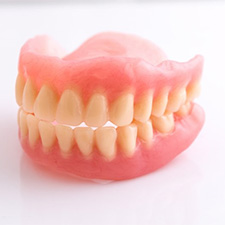 This is the most popular denture option, as it replaces an entire arch of lost teeth. Instead of relying on any healthy teeth, this prosthetic will be supported via natural suction of the gums. You can also use a small amount of denture adhesive if necessary to hold them in place.
Implant Dentures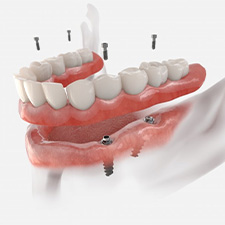 For optimal stability, we can embed dental implants into your jawbone to directly support your dentures to your facial structure. Not only will this make your prosthetics completely sturdy, but the metal posts will also help preserve your facial shape and prevent the bone tissue from weakening. Your results can also last several decades to a lifetime with proper care.
The Benefits of Dentures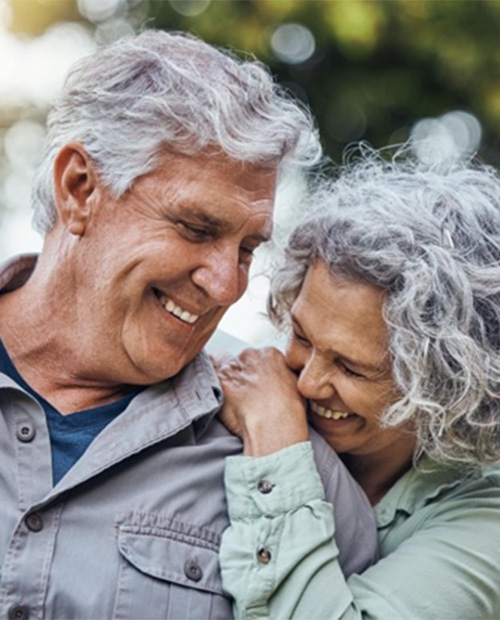 Dentures are an incredibly reliable solution for restoring your smile and come with multiple benefits, including:
Improved chewing ability
Clearer enunciation
Boosts self-confidence
Simple cleaning & maintenance
Expands social & professional opportunities