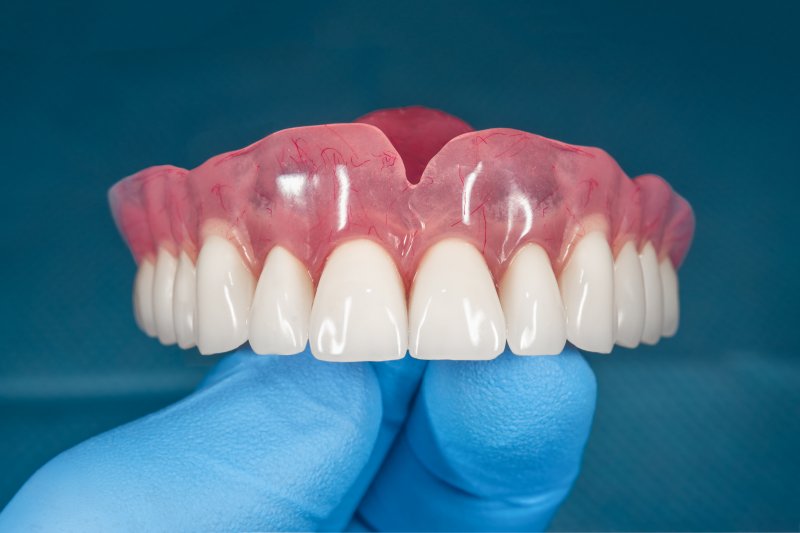 Dentures can be an excellent solution to extensive tooth loss, but some patients find that their removable restorations can start to smell bad after a while. However, if you clean your dentures and take great care of them, they're unlikely to develop an unpleasant odor that'll drive your friends and colleagues away! Here's more about why dentures might smell bad and what you can do to keep your breath fresh with your restored smile.
Why Do My Dentures Smell Bad?
Ever find a smelly sock at the bottom of a pile of dirty laundry? It smells because it was soaked in sweat while you wore it and then protected from light at the bottom of the heap of clothes. This warm, dark, damp environment provides the perfect habitat for bacteria to multiply. The same thing can happen to your dentures for the same reason without proper care. The space between your gums and your dentures provides an even warmer, darker, and damper place for bacteria to grow, and only proper care of both the mouth and your dentures can keep unpleasant smells at bay.
How Can I Keep My Dentures from Smelling Bad?
Keeping that nasty denture smell off your breath means proper care for both your dentures and mouth. This includes sticking to the right practices such as:
Remove your dentures and rinse them off after eating. This will wash away much of the food debris and sugary residue that can feed a bacterial population.
Clean your mouth after removing your dentures. This means using a soft toothbrush or gauze to clean your gums, tongue, and cheeks. This will clean your mouth of bacteria and plaque that cause bad breath while stimulating circulation in these tissues.
Brush your dentures at least once a day. Gently use a soft-bristled brush with a dentist-approved denture cleaner to remove plaque and leftover denture adhesive from the appliance.
Soak your dentures overnight in an approved cleanser. Keeping your dentures moist while they are out of the mouth will prevent them from warping, so follow your dentist's instructions for soaking them when you take them out before bed.
Avoid putting unnecessary stress on your dentures. Bending your dentures can cause small cracks and chips where bacteria can grow.
Avoid things that cause dry mouth.
Since dentures need to be kept moist to maintain their proper shape, a dry mouth can damage them. Drinking plenty of water helps wash your mouth clean of debris while keeping you hydrated enough to produce sufficient saliva. Check for dry mouth on the listed side effects of any medication you take and ask your doctor if there are any alternatives. Caffeine and alcohol can both cause dehydration, so cut down on how much you consume while making sure to stick to alcohol-free mouthwash.
Keep up with regular dental visits.
If you've considered all these possibilities and still have bad breath with your dentures, a dentist can help. Gum disease, tooth decay, and other oral health issues can also cause bad breath, and regular dental visits can correct these problems or mitigate their associated risks, keeping your breath fresh for all the smiling you're going to do.
About the Practice
Grateful Dentists delivers individualized care to patients in Billerica, MA. Led by Drs. Adam Danzig and Rachel Snook, the skilled staff provide comprehensive dental care with the latest technology in a comfortable environment. Services include general, pediatric, restorative, cosmetic, and emergency dentistry in addition to denture care. For more information on proper denture hygiene, contact the practice online or call the location at 662 Boston Road at (978) 667-2741.